In Northern California, North of San Pablo Bay, is Napa County, the producer of many different crops and known today as a regional wine country. Within the county is Napa Valley AVA, an American Viticultural Area nestled in California's prestigious wine country.


This beautiful, scenic area is home to dozens of acclaimed wineries, exquisite Michelin-starred restaurants, cultural attractions, and plenty of spots outdoors for biking and hiking. There's nothing better than wine country, and the region is home to many idyllic communities. If you're considering moving to Napa Valley, take a look at the following overview to decide which one will be the best fit for you.
Calistoga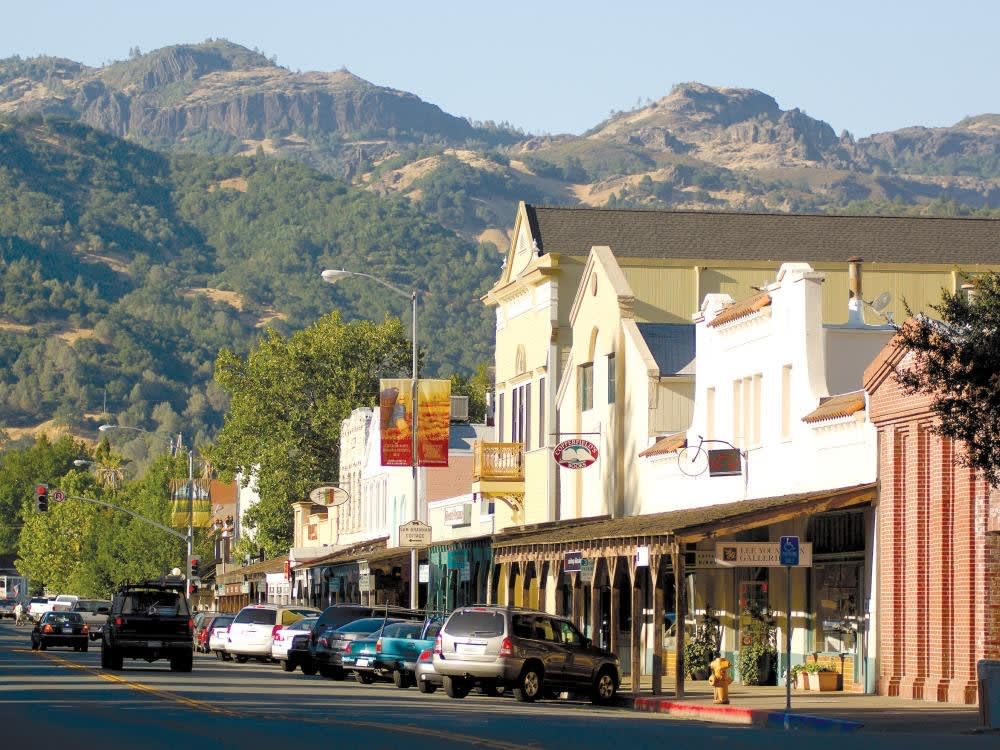 Tucked in the foothills of the majestic Mt. Saint Helena, Calistoga is a beautiful and scenic spa town renowned for its incredible naturally-occurring hot springs and mineral-rich waters. Tranquil, rustic, and sophisticated, Calistoga has a reputation for being an idyllic place to live immersed in the heart of wine country and home to world-class spas and wellness resorts.
The area's geothermal hot springs are part of the community's DNA and were part of what initially attracted founder Sam Brannon to the town in the 1860s. Calistoga's legendary reputation has attracted people from all over interested in trying the hot springs and seeking connection to the land. When it comes to housing, you can get a lot of acreage for your dollar because many spacious lots are available, perfect for custom builds.


But those seeking pricier luxury estates will find plenty of those available, too, along with cozy bungalows spread throughout the pastoral village. Calistoga boasts many acclaimed spas, such as
Golden Haven Hot Springs Spa & Resort
. It features an incredible Tuscan-style castle, the
Castello di Amorosa
, doubling as an inn and a wine facility. Calistoga offers an exquisite way of life steeped in classic Napa Valley-style tranquility with quaint, scenic streets, revolutionary hot springs, and refined estates.
Napa

Considering its presence in the renowned Napa Valley, the city of Napa is an iconic wine-drinking destination with a rich history as the second-largest city in California's Wine Country, following Santa Rosa. Napa also sits at the county seat of Napa County and is one of the area's exclusive communities.


Apart from being widely known for its wine, lush vineyards, and incredible wineries, Napa also touts a fantastic culinary scene appealing to "foodies" and gourmands who will find no shortage of upscale restaurants. The beloved
Oxbow Public Market
is an area staple that offers a delightful mix of food and amenities. Napa is home to dozens of attractions, including art galleries, museums, festivals, and more outside of food and drink.
Among some of the most popular amenities in the lavish town of Napa is the three-day
BottleRock
event featuring music, wine, and brews. Then there's the
Festival Napa Valley
, often called the "ten best days of summer" because it features an extraordinary line-up of musical performances. As for restaurants and wineries, there are plenty to choose from, but
Stags Leap Winery
stands out as one of the area's finest. This century-old wine estate sits on 240 acres and provides an unparalleled wine-tasting experience.
Yountville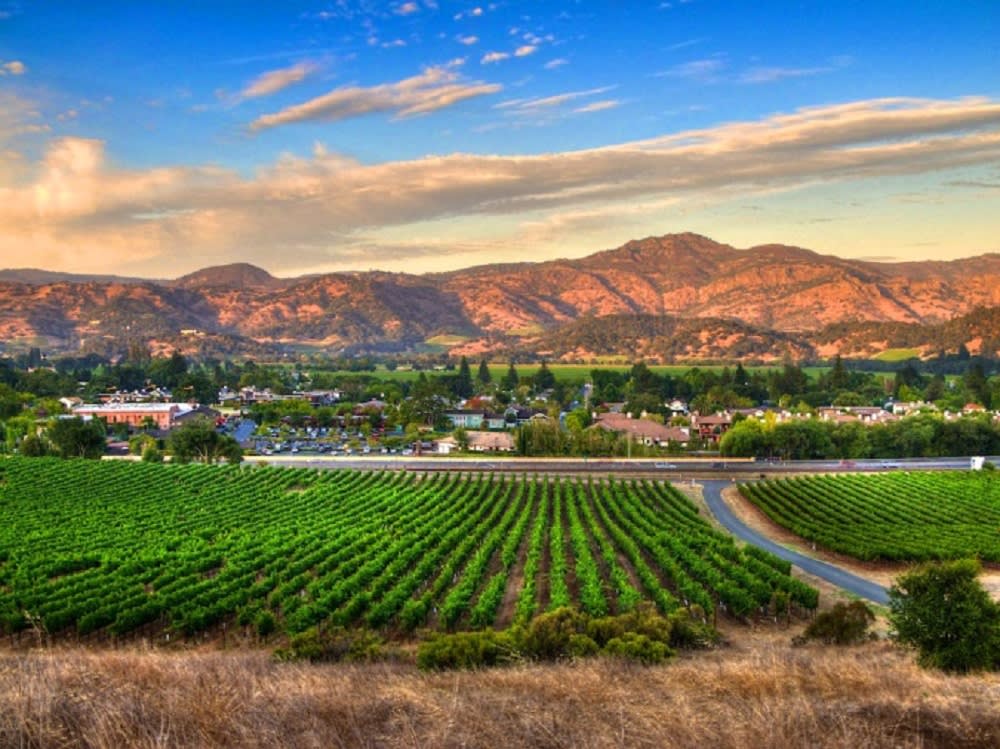 Residing halfway between Napa and St. Valley, Yountville is considered the "Culinary Capital" of the Napa Valley because it has the prestigious honor of being home to more Michelin Star restaurants per capita than anywhere else in the country. Yountville is even home to one of the top-ranked restaurants globally,
The French Laundry
, founded by award-winning Chef Thomas Keller.
Apart from the culinary scene, Yountville has some truly sumptuous and relaxing place to stay.
Hotel Villagio
at The Estate is the perfect place to plan your wellness retreat. The guestrooms are modern and chic, and all the amenities of the spas at The Estate are within reach. Truly, there is no oasis quite like Hotel Villagio, a "village within a village" filled with lush amenities.
Like the other exclusive communities throughout this prestigious region, Yountville is surrounded by many extravagant and fertile vineyards. This incorporated town is home to some of the first grapevines in Napa Valley and features many world-class amenities. The slow pace of life is highly coveted by many who appreciate the breathtaking natural beauty amongst the mountains and serene tranquility. Yountville represents prime wine country living and comes with an energetic and lively atmosphere.
St. Helena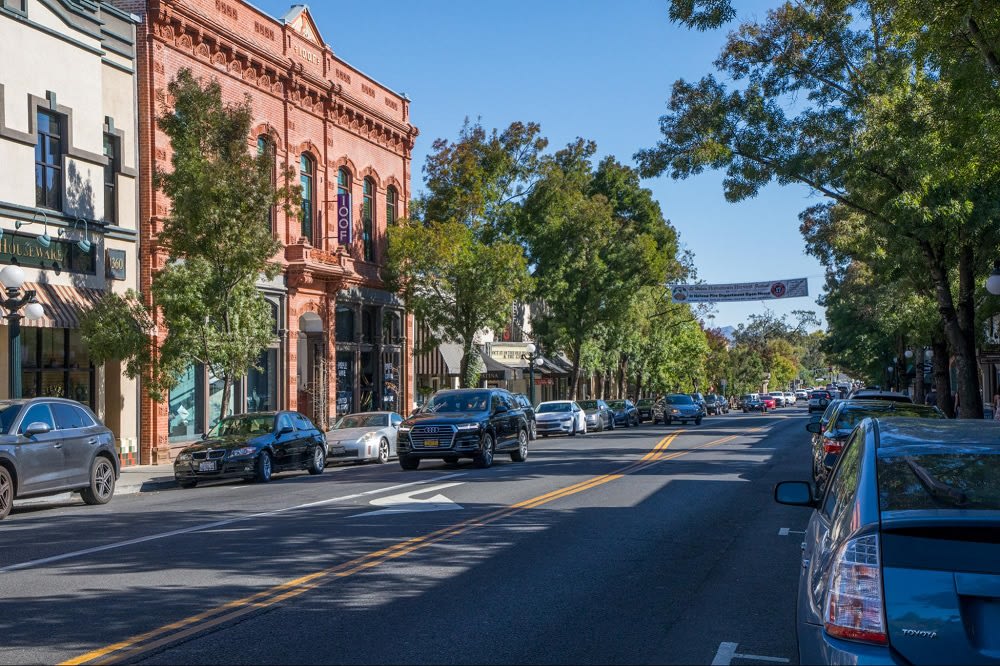 Residents commonly refer to St. Helena as the Main Street of Napa Valley because it's one of wine country's most charming communities, attracting people from all over the world. There is plenty to do and see here, including a great music scene, acclaimed restaurants, upscale boutiques, and fantastic wine.
Those who call St. Helena home have the choice of in-town homes, some of which date back as far as the 1800s. There are plenty of private and expansive estates and luxury homes throughout the city. With beautiful, well-maintained parks, excellent schools, and engaged locals, it's easy to see why St. Helena real estate is highly coveted.


The
Culinary Institute of America
(CIA) Greystone campus is one of the town's most notable institutions. As one of the world's most inspiring campuses for culinary education, St. Helena leads the valley and region with exceptional new food and wine trends.
Oakville

A quick and convenient stop along Highway 29, Oakville is a tiny, pastoral hamlet with fewer than 100 residents. Once a water stop on the steam train line between ferry boats in the 1860s, Oakville has since flourished into a euphoric village named for the dense groves of valley oaks nearby. While easy to overlook, Oakville is home to more than 20 wineries stretched across 5,000 acres of vineyards located in the Oakville AVA.


The town's local economy is based on Napa Valley wine production, emphasizing cabernet and a mixture of charming boutique wineries and larger, renowned names. The most popular wineries in Oakville are
Robert Mondavi Winery
,
Screaming Eagle
, and
Opus One Winery
. The
Miner Family Winery
is worth visiting just for the unique opportunity to get some hands-on experience in winemaking.
Then there's
Kalon Vineyard
, a haven for wine aficionados that produces some of Napa Valley's most succulent and expensive Cabernet Sauvignon grapes. Besides wineries, the premier gourmet grocer
Oakville Grocery
is a great place to stop for artisan cheeses, breads, soups, and made-to-order sandwiches.
Rutherford

Home of the famous "Rutherford Dust" soil, a unique type of earth that produces wine tinged with spicy undertones ideal for making decadent Cabernet Sauvignon. Rutherford, like Oakville, is a small community along Highway 29 best known for its refined Cabernet wines.


The Rutherford AVA is responsible for some of Napa Valley's most acclaimed wines. The Cabernet Sauvignon is the most widely planted grape in the area, bolstered by the long, summer days and organic, earthy flavors for which the Napa Cabernet has become known.


American Canyon

Located on the southern end of Napa County, American Canyon is a beautiful region not far from the city of Napa. Incorporated in 1992, American Canyon was formerly a quiet, reserved region that started to develop into a down-to-earth residential community following World War II.


Over the years, a significant commercial boom has helped make the area highly desirable while maintaining its sense of natural beauty and grandeur amid the rolling hills and wetlands. American Canyon offers easy access to San Francisco, and magnificent nature preserves with plenty of lush, open space. It's the closest town to San Francisco in the area and makes for a convenient place to live if you are commuting to the city.


A Napa Valley native, Julie Larsen is a tenacious, diligent, and trusted broker associate who combines more than three decades of real estate expertise with her construction background and passion for wine to serve home buyers and sellers in Napa and the surrounding counties. If you're looking to move to Napa Valley and searching for Napa luxury homes,
reach out to Julie Larsen
today to decide on the best community for you!