Located just 50 miles north of San Francisco, Napa Valley offers impressive vistas, rolling hills, and wineries for residents and tourists. It's a fairytale world away from the bustling city by the bay, its crowds, and its traffic. For those who left their hearts in San Francisco, the Napa Valley is just the place to rediscover them again.
Homeowners looking at Silverado Country Club real estate or Browns Valley new homes have healthy competition at hand. In December 2021, Napa Valley homes were selling for a
median price
of $4,500,000 and sold after about 120 days on the market. Considering this price is up from $1,215,000 just one year earlier, to say that it's a seller's market is an understatement. It's one of the most aggressive seller's markets in recent history.
Napa Valley is a wine country haven known for wine quality and production that rivals and, in some cases, exceeds France's best wines. It covers a total land area of 789 miles with a population of about 138,000 residents and a median household income of about $89,000.
It's home to the Culinary Institute of America at Greystone
and is just 45 miles from the University of California - Davis, renowned for its world-class programs in veterinary medicine, agriculture, and its number-one rating from
Forbes
for its
STEM program for women
.
One of the perks of living in Northern California lies in the abundance of farmers' markets, and Napa Valley is no exception.
Oxbow Public Market
is a 40,000 square-foot marketplace that enchants visitors with river views from its outdoor deck. The market is awash with farm-to-table food, craft beer and wine, cheese purveyors, bakeries, and eateries, supporting sustainability and local harvests.
The valley is rich with rolling hills and lush greenery, is only about an hour away from
Bodega Bay
, and even has a
Napa Valley Wine Train
that offers different tours and onboard afternoon tea. There are numerous country clubs to choose from for those who prefer activities on the links closer to home. Here are a few top-rated courses in Napa Valley.
Napa Valley Country Club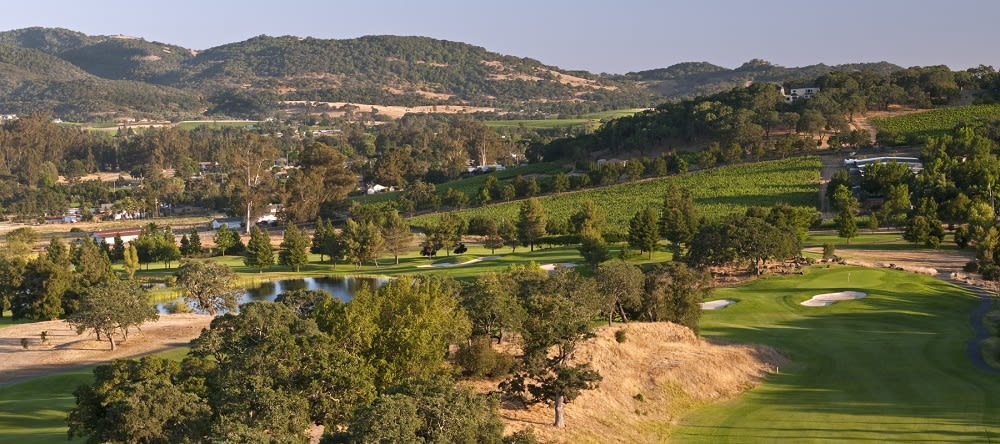 The Napa Valley Country Club has been in existence since 1923. What began as a simple, 9-hole golf course grew by the 1980s into an 18-hole course. The semi-private course covers just over 6,300 yards of challenging, engaging play for amateurs and professionals alike. Outdoor enthusiasts can enjoy a short or long round of golf or opt for a tough game of tennis on one of the five hard courts or the two clay courts. The country club also offers a scenic setting amongst nearby vineyards for weddings, receptions, and other social gatherings.
Silverado Country Club and Resort real estate
Silverado Country Club and Resort is the ideal combination of
private residences
just an hour from San Francisco with easy access to the country club and mountain views. Housing options include luxurious single-family homes and condominiums, including several private gated communities.
The Silverado Country Club
boasts two golf courses—The North Course and the South Course. The North Course hosts the PGA Tour's Safeway Open event and is ranked amongst the Top 150 Resort Courses by
Golfweek
. The club also features tennis courts, a spa, and annual food and wine events for members. Its dining options include several restaurants featuring options such as farm-to-table meals for breakfast, lunch, and dinner, wood-fired pizzas, pasta, hand-crafted coffee, small bites, sandwiches, and snacks. Club members benefit from preferred pricing at dining outlets on the property.
Vintner's Golf Club
The Vintner's Golf Club is a premier golf venue located in the heart of Napa Valley. Three sets of tees are available on this championship nine-hole resort course. Casey O'Callaghan designed the course, which opened in 1999. The nine-hole course is designed not just for skilled golfers, but also for beginners who are just looking for an enjoyable place to play. If you are looking for an exceptional spot to spend your day while enjoying delicious local food and drinks, this course is the perfect destination for you.
Chardonnay Golf Club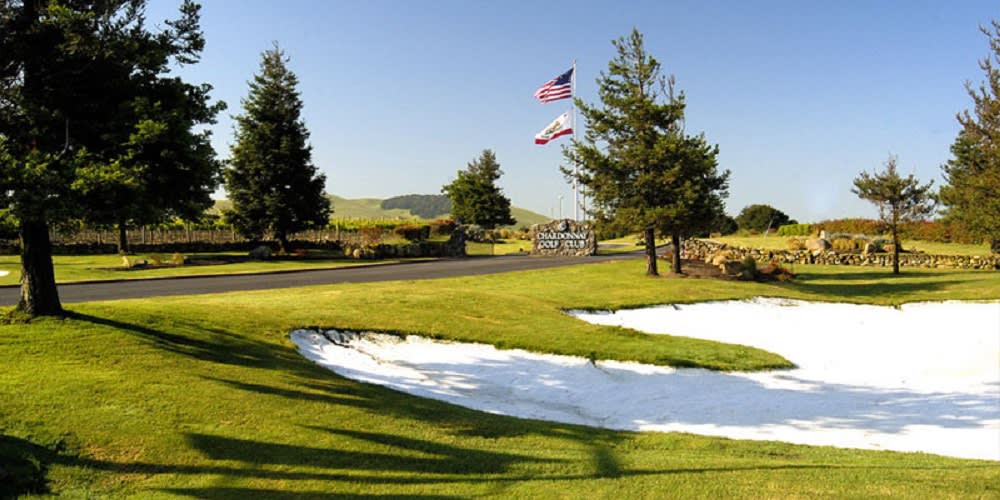 For homeowners of Silverado Country Club real estate or Browns Valley, escaping to a lush vineyard that doubles as a golf course makes for the perfect staycation. The links at Chardonnay Golf Club offer 18 holes of play amongst 150 acres of vineyards, creeks, and lakes. The facilities at this semi-private venue include space for banquets, meetings, special events, and world-class catering and foodservice.
The Moonlight Grove
seats up to 450 guests, and
The View Bar and Grill
is the perfect place to tuck into a hearty—or light—meal to replenish your energy after your game or lessons.
Eagle Vines Golf Club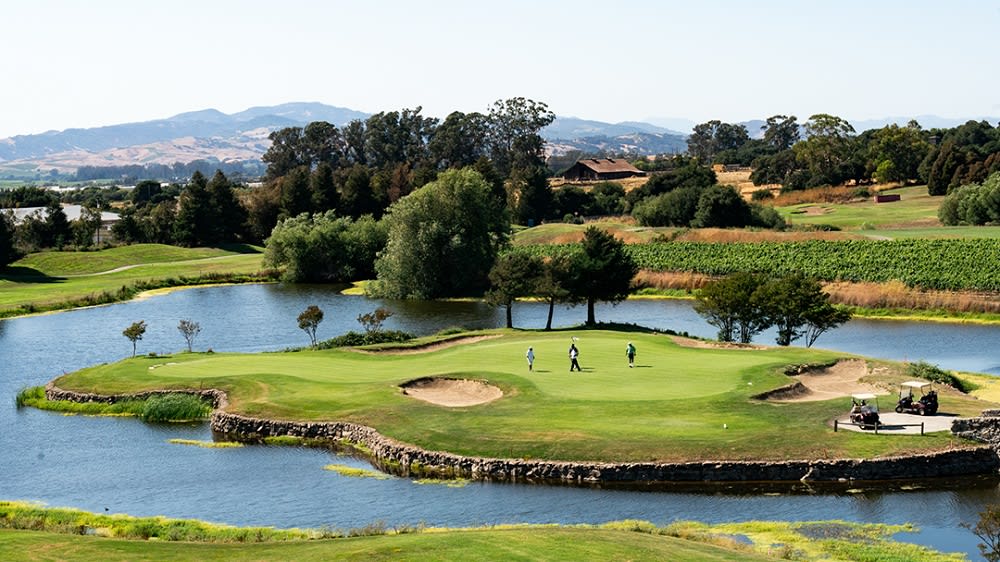 Designed by World Golf Hall of Famer Johnny Miller, the Eagle Vines Golf Course is an 18-hole course open to the public and official members. As many businesses and facilities in the Napa area will attest, sustainability is crucial to the longevity of life on the planet, and
Eagle Vines Golf Club
is no exception. Set amongst lush vineyards, the facility strives to nurture, respect, and care for its surroundings and wildlife. The onsite
Eagle Grill
offers early to late afternoon dining, and the Eagle Vines Pavilion is a 4,000 square-foot event space near a natural waterfall and can host up to 250 guests.
If you're ready to find a home in Napa Valley and explore these stunning country clubs, contact local agent
Julie Larsen
. Julie is ready to assist you in finding your dream home in the Napa Valley area. Contact Julie today to get started!